Nest Protect

NEST PROTECT: SMOKE + CARBON MONOXIDE™
Meet Nest Protect.

The Nest Protect smoke and carbon monoxide (CO) alarm sends a message to your phone if the alarm goes off or the batteries run low, so you can know even if you're not home. And instead of just chirping and howling at you, Nest Protect speaks with a human voice. It gives you a friendly Heads-Up before burning toast turns into an emergency, and tells you the room where the smoke or CO is located. Low-battery chirps ever rattle your dreams? Nightly Promise shows you its sensors and batteries are working before you doze off.
HOW DOES IT WORK?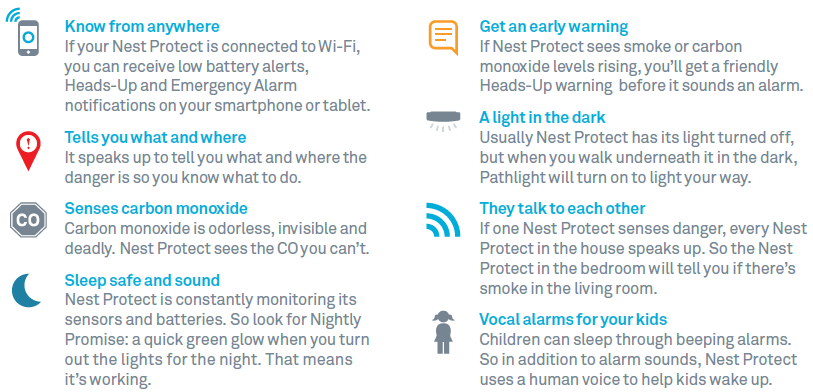 STAYING SAFE SHOULDN'T DRIVE YOU CRAZY.
It's 2am and the smoke alarm is chirping. For a second, you panic. Is there a fire? Are the batteries just low? Is it working? Am I safe? Frustrated, you take the batteries out, and put yourself at risk.
Something this important shouldn't be this irritating. Nest Protect gives you information, not just alarms. Help, not panic.
It's time to love your smoke and CO alarm.



For more information visit www.nest.com